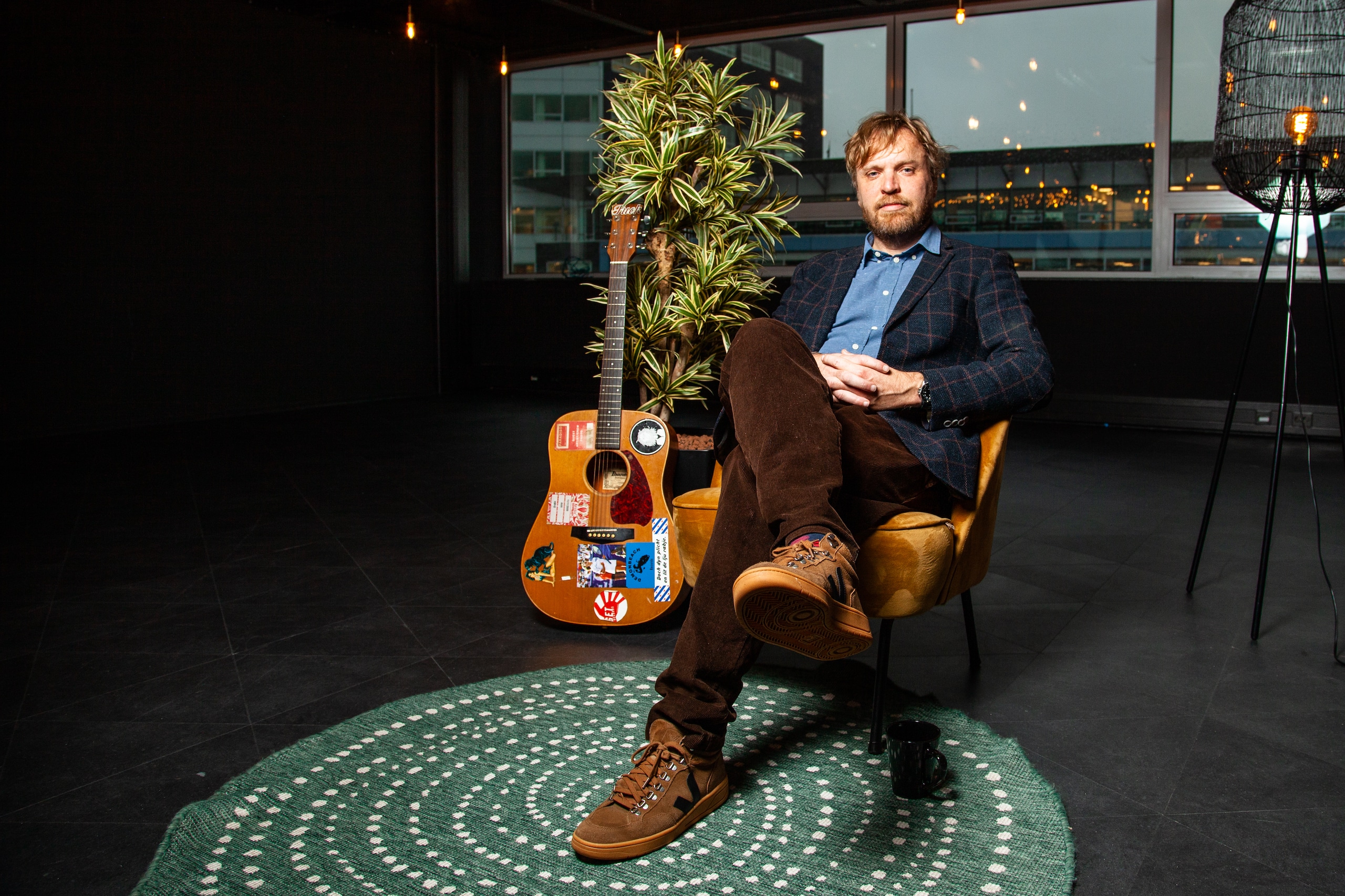 *Dutch translation below*
Freelancing is something that's grown to be more popular over the years. And as working from home becomes increasingly popular as well, that is no surprise. Let's kick this door in right away, because what does it mean to be a freelance worker? What do you need to be aware of? And when are you part of traditional employment? Believe it or not, the line between the traditional employment and freelancing can be very thin. Fear not: we're here to explain everything you need to know about being a freelancer.
What is freelancing?
Let's start with something that might seem obvious: freelancing is a flexible form of employment in which you can take on assignments and carry them out on your own. However, what you probably didn't know is you're pretty special as a freelancer: freelancing is not specifically mentioned in the law. Agreements that freelancers enter into are often equated with an agreement for services (Art. 7:400 of the Dutch Civil Code). When it comes to delivering work of a material nature (e.g. creating clothing), you can speak of a building contract (Art. 7:750 of the Dutch Civil Code). Both of these forms of employment are different from a traditional employment contract.
How, exactly? We're happy to explain below:
Employment requirements
Entering into an agreement in which you must deliver a service or product does not automatically mean that there is an employment relationship. There are four requirements in order for your work to be labeled as employment1:
First, there must be a personal obligation to the work you're carrying out. This means that you yourself are obliged to work and that you aren't allowed to have someone else do that work for you.
Second, there must be an obligation to pay wages. The company you are going to work for is obliged to pay you your agreed upon salary for your work.
Third, there must be a relationship of authority. In general, this means that an employee is obliged to follow instructions from the employer. This doesn't necessarily mean that actual directions or instructions are given. This third factor mainly discusses the extent to which an employer supervises and can give instructions or directions to an employee and the extent to which an employee must comply with them. As a freelancer, you're mostly in charge of that yourself. Another indication of this relationship is outward appearance. This means that it appears to the outside world that there is a relationship of authority by means of company clothing, for example.
Finally, the employee must perform work for a certain period of time. This requirement is often disregarded because it is met quite quickly.
If it needs to be determined whether you currently hold an employment contract or a freelance assignment with one of your clients, the 'unless' approach is often used. For example: in case of X/Gemeente Amsterdam it was ruled that the original intentions of the parties no longer play a role in the qualification of an agreement.2 The original intentions might have been for it to be a freelance assignment, but the actual work and relationship eventually became more employment based. If the contents of an agreement meet the legal requirements mentioned above, it is an employment agreement, unless it turns out that one of the requirements is lacking in practice.3 As in the case of freelancing, this often concerns the absence of a relationship of authority.
Freelancing as a 'disguised' employment contract
Freelancing usually doesn't create an employment relationship. This is often evident from the wording of a freelance agreement. However, it is possible that an employment relationship gradually shifts. In 2005 it was ruled that there was an employment relationship between a freelancer for a TV program and his client B, because the freelancer had to fit into the organizational framework created by B and because the freelancer had to explain his work from time to time.4 Despite the two parties initially agreeing on freelance work, there was actually an employment relationship.5
There are also cases in which there appears to be a relationship of authority, when in fact there is not. For example, in 2020, it was determined that the contract of engagement concluded between a management agency and a maid group did not create an employment relationship. The detailed instructions given by the management agency did not detract from the fact that both parties were allowed to give their input to make performances successful.6 Meaning: there was no relationship of authority here and thus no employment contract.7
It's clear that what was agreed between two parties doesn't automatically make this true for the law. And relationships, agreements and requirements can shift in time and thus create changes in whether or not you're employed or a freelancer. But what difference does it make? Well, as an employee you have different rights than you'd have if you were a freelancer. "What are those differences?", we can almost hear you ask. We'll explain below.
What should you pay attention to as a client?
As a client, it is important that you are aware of the employment relationship you have with a freelancer. The actual situation may differ from what was agreed in an agreement. Pay particular attention to the relationship of authority when signing a freelance agreement. If the factual situation indicates that there is an employment contract, the freelancer can rely on other rights, including your duty of care as an employer or reimbursement of his or her medical expenses. It already helps tremendously if, whilst signing a contract, you both have a clear picture of what is expected of each other. And, as your agreement progresses, don't forget to check in every once in a while to see if you still meet the right requirements and the situation hasn't shifted into employment.
What should you watch out for as a freelancer?
As a freelancer, you have different rights than you would as an employee. After all, you work for yourself and cannot simply invoke employer obligations or benefits. Pay close attention to what was agreed beforehand and look at the actual effect of it. For example, the agreement may tacitly change into an employment contract while this is not the intention, which can lead to negative consequences for both parties. Also, be sure to look into the rights you can invoke in case a conflict arises.
Platform employment
New developments, such as platform employment, have led to discussions about the modernization of the concept of 'employer-employee relationship'. According to the Amsterdam Court of Appeal, Deliveroo and Helpling platforms are a kind of digital employers.8 9 Given their activities and roles, they meet the legal requirements of employment.
In order to keep up with these developments, the European Commission is working on a directive for being an employer in the platform economy.8 9 The aim of this is to allow freelancers working on platforms such as Deliveroo and Uber to have the same entitlements as salaried employees.10 It is therefore expected that freelancers with platform employers will enjoy broader legal protection within the European Union in a few years.
We hope you learned a thing or two about being a freelancer and what key factors are for you to pay close attention to. Have any questions left? Don't hesitate to contact us. See you next time!
About Sem: Sem Bakker is an attorney at Backstage Legal and has extensive experience advising and litigating in the areas of labor law, intellectual property law and privacy and regularly works for clients in the music industry. Sem is also active as a board member in the Popcoalitie and as a musician. Under the name Six Def he makes tracks that are regularly used for American series such as Californication and Suits. Starting in the mid-1990s, Sem was active for over ten years as a bass guitarist and composer in the guitar band Caesar. Caesar released four albums, won a Silver Harp, and performed widely at home and abroad, including at festivals such as Lowlands and Pinkpop.
______________________________
Wat is freelancen?
Freelancen is een flexibele arbeidsvorm waarbij je opdrachten kan aannemen en deze op eigen houtje kan uitvoeren. Het is bovendien een bijzondere arbeidsvorm, omdat het in de wet niet specifiek zo is genoemd. Overeenkomsten die freelancers sluiten worden vaak gelijkgesteld aan een overeenkomst van opdracht (art. 7:400 BW). Wanneer het gaat om het leveren van werk van stoffelijk aard, dan spreekt men van een aannemingsovereenkomst (art. 7:750 BW). Deze twee arbeidsvormen zijn anders dan een traditioneel dienstverband.
Eisen dienstverband
Het sluiten van een overeenkomst waarbij je een prestatie moet leveren betekent niet gelijk dat sprake is van een dienstverband. Hiervoor zijn vier vereisten1:
Ten eerste moet sprake zijn van een persoonlijke arbeidsverplichting. Dit komt erop neer dat jijzelf verplicht bent tot arbeid en dat je het werk niet door een ander mag laten doen.
Ten tweede moet sprake zijn van een loonbetalingsverplichting. Degene voor wie jij gaat werken is verplicht om jou loon te betalen voor jouw werkzaamheden.
Ten derde moet sprake zijn van een gezagsverhouding. Over het algemeen betekent dit dat een werknemer verplicht is aanwijzingen te volgen van de werkgever. Het is hierbij niet noodzakelijk dat daadwerkelijk aanwijzingen of instructies zijn gegeven; je moet vooral kijken naar de mate waarin een werkgever toezicht heeft op en instructies of aanwijzingen kan geven aan een werknemer en de mate waarin een werknemer daaraan gehoor moet geven. Een andere aanwijzing is uiterlijke schijn. Dit betekent dat het naar buiten toe lijkt alsof er een gezagsverhouding is d.m.v. bedrijfskleding bijvoorbeeld.
Ten slotte moet de werknemer werkzaamheden gedurende een zekere tijd verrichten. Deze eis wordt vaak buiten beschouwing gelaten, omdat er vrij snel aan is voldaan. Het houdt simpelweg in dat de arbeid tijd kost.
Bij de vaststelling of het om een opdracht- of arbeidsovereenkomst gaat, wordt doorgaans een tenzij-aanpak gehanteerd. In de zaak X/Gemeente Amsterdam is geoordeeld dat de oorspronkelijke bedoelingen van partijen geen rol meer spelen bij de kwalificatie van een overeenkomst.2 Als de inhoud van een overeenkomst voldoet aan de bovengenoemde wettelijke vereisten, is sprake van een arbeidsovereenkomst, tenzij blijkt dat een van de vereisten in de praktijk ontbreekt.3 Het gaat, zoals bij freelancen, vaak om het ontbreken van een gezagsverhouding.
Freelancen als 'verkapt' dienstverband
Freelancen brengt in beginsel geen dienstverband tot stand. Dit blijkt vaak ook uit de verwoording van een freelance overeenkomst. Toch kan het zijn dat er gaandeweg wel een dienstverband ontstaat. In 2005 is geoordeeld dat sprake was van een gezagsverhouding tussen een freelancer bij een tv-programma en zijn opdrachtgever B, omdat de freelancer zich moest invoegen in door B geschapen organisatorisch kader en omdat de freelancer van tijd tot tijd zijn werkzaamheden moest toelichten.4 Ondanks de overeenkomst was er eigenlijk sprake van een arbeidsverhouding.5
Er zijn ook gevallen waarin er een gezagsverhouding lijkt te zijn, terwijl dit niet zo is. Zo werd in 2020 bepaald dat de overeenkomst van opdracht gesloten tussen een managementbureau en een meidengroep geen dienstverband tot stand bracht. De gedetailleerde instructies die het managementbureau gaf deden niet af aan het feit dat beide partijen hun inbreng mochten geven om optredens tot een succes te maken.6 Er was hier geen gezagsverhouding.7
Het kan dus goed zijn dat er sprake is van een dienstverband, ondanks dat dit niet is afgesproken. Sterker, indien er in de overeenkomst van opdracht wordt bepaald dat partijen geen arbeidsovereenkomst willen, heeft dat geen effect. Dit verschil is wel belangrijk, omdat je als freelancer andere rechten hebt dan als werknemer.
Waar moet je op letten als opdrachtgever?
Als opdrachtgever is het belangrijk dat je je bewust bent van de arbeidsrechtelijke verhouding die jij hebt met een freelancer. De feitelijke situatie kan namelijk afwijken van wat er in een overeenkomst is afgesproken. Let vooral op de gezagsverhouding bij het tekenen van een freelance overeenkomst. Als de feitelijke uitwerking erop duidt dat er sprake is van een arbeidsovereenkomst, kan de freelancer zich op andere rechten beroepen, waaronder jouw zorgplicht als werkgever of het vergoeden van zijn of haar ziektekosten. Het helpt al enorm als je tijdens het tekenen van een contract allebei een helder beeld hebt van wat van elkaar wordt verwacht.
Waar moet je op letten als freelancer?
Als freelancer heb je andere rechten dan een werknemer. Je werkt namelijk voor jezelf en je kunt je niet zomaar beroepen op werkgeversplichten. Let goed op wat er van tevoren is afgesproken en kijk naar de feitelijke uitwerking daarvan. Het kan bijvoorbeeld zijn dat de overeenkomst stilzwijgend overgaat op een arbeidsovereenkomst terwijl dit niet de bedoeling is, hetgeen voor beide partijen tot negatieve gevolgen kan leiden. Zorg er dus voor dat je je bewust bent van de rechten waar jij je op kunt beroepen voor het geval een conflict ontstaat.
Samengevat is freelancen is dus iets anders dan het hebben van een dienstverband; er ontbreekt vaak een gezagsverhouding. Toch kan het zijn dat de feitelijke uitwerking van een overeenkomst erop duidt dat er juist wel sprake is van een dienstverband.
Platformwerkgeverschap
Door nieuwe ontwikkelingen, zoals platformwerkgeverschap, zijn er discussies ontstaan over de modernisering van het begrip 'gezagsverhouding'. Volgens het Hof Amsterdam zijn de platforms Deliveroo en Helpling een soort digitale werkgevers.8 9Gezien hun werkzaamheden en rollen voldoen ze in principe aan de wettelijke vereisten.10 Om deze ontwikkelingen bij te blijven is de Europese Commissie bezig met een richtlijn voor werkgeverschap in de platformeconomie. Het doel hiervan is om freelancers die werken op platforms als Deliveroo en Uber dezelfde aanspraken te laten krijgen als werknemers in loondienst. Naar verwachting zullen freelancers met platformwerkgevers dus in een aantal jaar binnen de Europese Unie een bredere rechtsbescherming genieten.
1 Artikel 7:610 BW.
2 HR 6 november 2020, ECLI:NL:HR:2020:1746, r.o. 3.2.2.
3 Idem.
4 HR 17 juni 2005, ECLI:NL:HR:2005:AT7633, r.o. 3.3.1 – 3.3.2.
5 HR 17 juni 2005, ECLI:NL:HR:2005:AT7633, r.o. 3.3.3-3.4, 3.6.
6 Rb. Midden-Nederland 28 januari 2020, ECLI:NL:RBMNE:2020:549, RCR 2020/44, r.o. 4.12.
7 Idem.
8 Hof Amsterdam 16 februari 2021, ECLI:NL:GHAMS:2021:392.
9 Hof Amsterdam 21 september 2021, ECLI:NL:GHAMS:2021:274.
10 Idem.
Over Sem: Sem Bakker is advocaat bij Backstage Legal en heeft ruime ervaring met het adviseren en procederen in de rechtsgebieden arbeidsrecht, intellectueel eigendomsrecht en privacy en werkt regelmatig voor cliënten uit de muziekindustrie. Sem is ook actief als bestuurslid in de Popcoalitie en als muzikant. Hij maakt onder de naam Six Def tracks die regelmatig gebruikt worden voor Amerikaanse series zoals Californication en Suits. Sem was vanaf midden jaren negentig ruim tien jaar actief als basgitarist en componist in de gitaarband Caesar. Caesar bracht vier albums uit, won een zilveren harp en trad veel op in binnen- en buitenland, waaronder op festivals als Lowlands en Pinkpop.