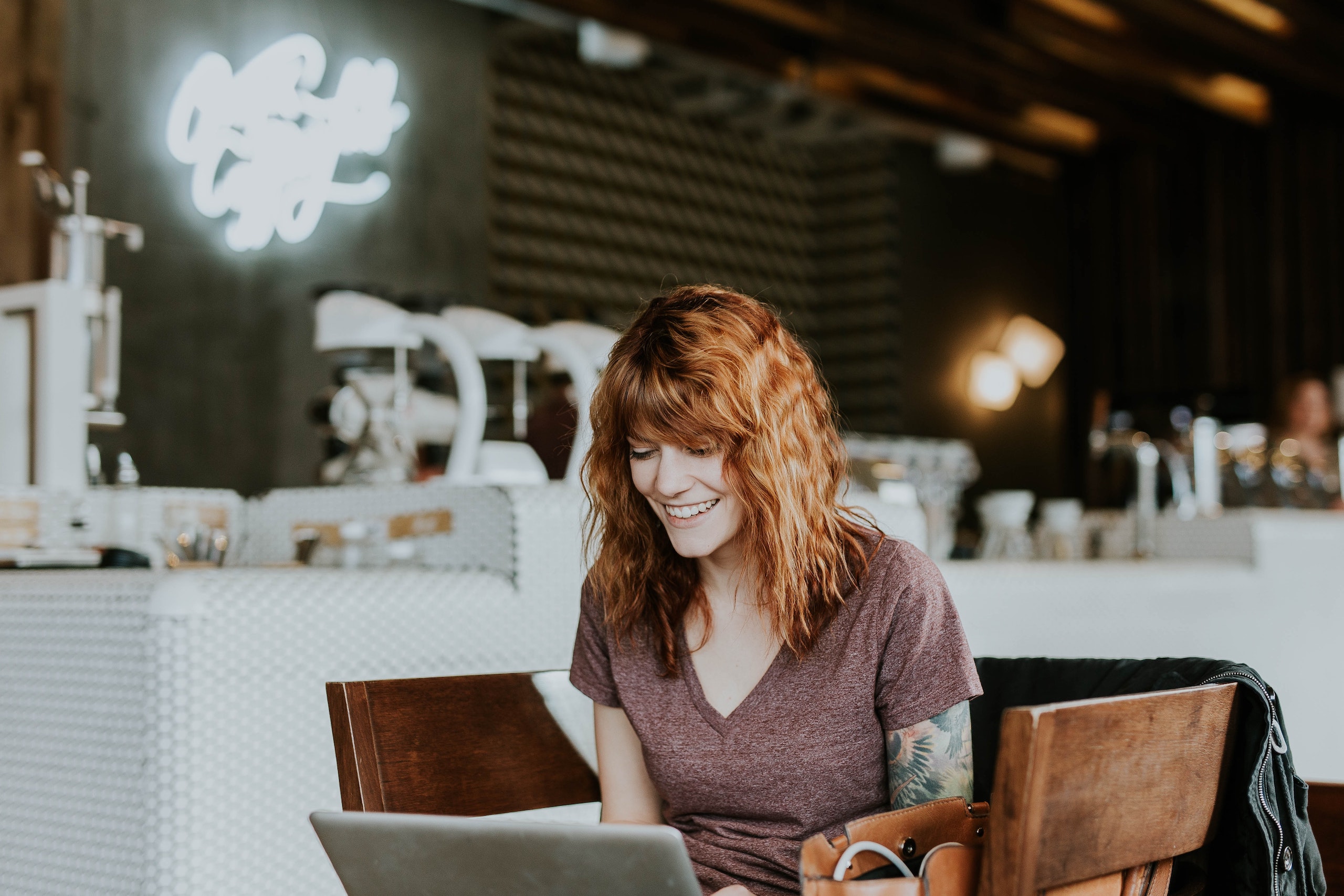 Let's face it: job interviews are always tensive, even if they're fun. However, knowing that you're well prepared takes a big part of any tension away. It's a good thing you have us: the last part of our Ultimate Application Guide is all about everything you need to do to land that job in your next interview.
But let's start with a big disclaimer: we're not really a fan of the words 'job interview'. It's more like a conversation and we recommend you treat it as such. Not only the hiring manager needs to find out if you're the right fit for the role and company, so do you. Even if you want this job very badly: relax, sit back (but don't slouch) and enjoy the talk. And if you like what you hear during the interview, here's a few tips on how to ace it on your part:
Research is where it all begins
Yourself. The company. The job. The industry. Rocking a job interview starts with research.
Are you switching industries to the *insert halo sound* creative industry? Get to know the industry a bit: ask questions to our recruiter Pieter about how certain companies and roles work. Don't forget about the actual field that revolves around your role as well. That might be the publishing industry, promotion, communications, administration: there's tons of categories within the creative industry that all work together to keep everything afloat.
Research yourself. Wait… Yourself? Yes. What would the hiring manager want to know and what are concerns they might have after looking at your resume? Write these questions down and practice your answers. For instance: if they're looking at your resume and see you've worked at several companies for two years or under, they might assume you're a job hopper. Explain yourself in a positive way. If you find it difficult to pinpoint your strengths and improvements: ask your friends, family or previous managers about their opinion.
Research your interviewers, other employees, important company accomplishments or challenges and write them down. These say a lot about the company culture so it helps you decide if you think you'd be a good fit. Next to that, if you're asked to sell yourself you can potentially relate your skills and experience to your interviewers' background, challenges the company is facing and tell the hiring manager how you'd contribute to that if you're hired.
Read the job description thoroughly and list examples of how you've acquired each skill that's asked for. This works very well if you're switching to a new role or industry specifically – but is recommended to use in any interview. Next to that, the technique you've used to research yourself also works with the job description. For instance: if you're applying for a role as Streaming/Playlist Manager at a record label, they might ask you to list how you create playlists, how you maintain relationships with stakeholders and so on. Ask yourself what the job entails and what they might want to know about that. What might help: underline what seems to be important to the employer in the job description. Then think of examples to show how you've acquired those skills. If you're applying for a more senior role, the hiring manager might want to learn more about your strategic and leadership skills. Think of examples where you added value on a strategic level or where you excelled showing your leadership skills.
Before you go in
Okay, you're all set up. Just a quick checklist to see if you're bringing everything with you to the interview before you walk out that door:
Your resume and cover letter. Digitise (be kind to the environment) or print these to bring along. Highlight skills and examples in your resume or cover letter so you can easily refer to them and the interviewer can find them within a single glance.
A notebook. Writing down talking points can not only help you look professional, it also gives you insights on pros and cons of the job and company so you can decide if this is the right fit for you after the interview.
Your best outfit. Maybe you've already taken some notes when you were doing research, but make sure your outfit matches the company you're applying to. What do employees wear? Adapt accordingly.
Look at your research, resume and cover letter just moments before the interview. This puts you in a more heightened state and makes you energetically ready for the interview. Ready, set, go!
Body language
Alright, you're here. Interview day. During the interview, there's a few things to keep in mind – starting with body language. Looking out the window, glancing at your feet, sitting like a shrimp: they're all not great impressions you're giving the hiring manager. Sit actively, make eye contact and smile whenever it feels right (you don't want to look like you've slept with a hanger in your mouth). Are you more introverted? Don't worry! You can still make it look like you're excited about this by actively engaging in your own way. People feel positive energy.
Be honest about your wants and needs
This might be the best advice we can give you. If you play picture perfect and in the end neither you or the company you're working for are happy, we're unhappy too. Being honest and authentic always leads to the best long term results. As an intermediary we're trying to find the right person for the role instead of convincing you how amazing our client is. So, we're always honest about the role, salary, company culture, hours and more. To find the right match and to make you happy it's important you're honest as well. Tell us what you want your day to look like, if you want to work from home, your dream manager's personality, anything. It's important for the hiring manager to know what you're looking for and to speak their mind on what they are in turn looking for.

If it doesn't turn out to be the right match, no worries: with your permission we'll have your data on file so we can get back in touch if we do find a match. And yes, we actually do get back in touch if we are consulted for something that might suit you.
Take a moment to answer
You might be nervous, but remember this is a conversation. You're allowed to think before you speak. Try this as a technique: answer in summary first – then expand. This gives you an extra few seconds to think about what you'd like to say in detail. For instance: if the hiring manager asks you to give an example on how you cope with setbacks, summarize the question, then answer shortly, then expand. Do try to only use this for difficult questions so you avoid sounding too rehearsed.
Multiple examples
If asked for examples, name more than one. It vows well for you if you can really show the hiring manager with multiple examples that you've really got that asked for skill down. On that note, always show, don't tell. Firstly, make sure your selling point is clear. Then give a few real life examples that confirm your selling point.
It's all about the 'why'
A job interview isn't just about selling yourself. If you're really looking to land this job or are excited to work at the company you're applying to, this should be amazing to you too. You get to talk to the people working a really cool job at your dream company. Enjoy the conversation, show your interest and especially: excitement. Tell them what excites you about this role and the company. What skills would you like to learn in this next step in your career? What do you think would be your favorite part of working in this role? What are you eager to learn from working at this company?
When crickets turn to the stage
If you don't know how to do something or answer a question correctly: connect it to something you do know. Tell the interviewer honestly that you haven't been through that exact experience, but tell them a similar thing you've done that proves you'd be good at it. It might be obvious but never lie. It puts you and your future employer in a bad position when you get asked to do it.
Always ask questions
Yes, you've made it! This is the end of your interview, and the interviewer asks if you have any questions. And you do. You always do. It isn't a good look if you don't have any questions ready. Examples you can use:
What do my day-to-day activities look like?
What are opportunities for personal development within this company?
What departments and stakeholders will I be working with?
What are the next steps in the hiring process?
Ending statement
Did you enjoy the interview and do you see yourself working at this company? Then before you go: tell them you're interested in the position and company and explain briefly why you'd be a great fit based on what you learned today. If you express your excitement, the hiring manager might be more interested in sending you an offer than someone who's just as qualified but didn't show as much enthusiasm.
Send a 'thank you'
The aftermath of the interview is almost just as important as the preparation and the actual interview. Shortly after (24 – 48 hours) send the interviewers an email thanking them for their time and quickly review what you talked about. Is there something you forgot to tell? This is your moment to take away some last doubts and show your interest one last time.
That's it! After reading all three parts of our Ultimate Application Guide, we think you're ready to go get that dream job of yours. Stay tuned if you're hungry for more, soon we'll be picking 10 of the most difficult questions in interviews and show you how you can answer them perfectly. We'll even address the infamous "Tell me about yourself" question. 'Till next time!